The Configure a Label sidebar allows you to browse rates, apply Shipping Presets, and create shipping labels directly from the Orders page.
Available for PayPal Orders Only
For orders imported from PayPal, the Configure a Label sidebar helps you create labels and ship your orders faster.
If you need to create a label independent of an order, click the Create New Quick Label button at the top of the Orders page.
To create a label from the sidebar:
Click an order row on the Ready to Ship tab to open an order in the sidebar:

Review the Ship Date, Ship From address, and Ship To address.

See the Tips for Using the Configure a Label Sidebar section below for steps to edit these fields.

Click the Select Service tab under the Package Details section.

Select your desired Service and Package Type from the drop-down menus, then enter your package dimensions and weight.

Click the Calculate Rate button.

Review your shipment details under the Confirm Shipping Service section, then click the Purchase Now button.

Save Rate for Later Purchase

Not ready to purchase your label yet? Click the Save Rate button to save the rate for this order.

You can complete your purchase from the Orders page at any time by clicking the $X.XX - Buy button in the order row.
You can add customs declarations to international orders under the Customs Form section of the Configure a Label sidebar.
Click an order row to open an order in the sidebar.

Click the Contents Type drop-down menu and select the option that best describes the contents of your shipment (such as Merchandise or Documents).

Choose how you would like the carrier to proceed with the shipment if it is unable to be delivered to the recipient from the If Delivery Fails drop-down menu (for example, Return to Sender).

Click + Add Declaration to declare customs information for the first item in your shipment.

Complete the customs declaration form, then click the Add button.
To add customs information for additional shipment items, click the + Add Declaration button again.
To edit a declaration, click the vertical ellipsis icon on the declaration and select the Edit or Remove option.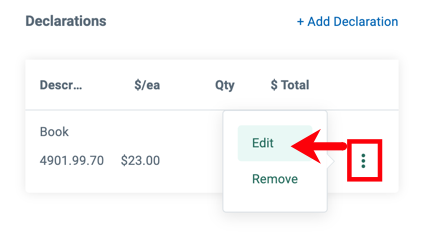 Use the arrow buttons at the top of the Configure a Label sidebar to move from order to order in the Ready to Ship grid.

You can edit an order's Ship Date, Ship From address, and Ship To address from the sidebar:

To select a new Ship Date, click the current date and select a future date from the pop-up calendar.

If you have more than one Ship From address, select your desired Ship From using the drop-down menu.

The PayPal Shipping Center automatically validates Ship To addresses. To change the address, click Edit and enter the new address details.

To revert to the original address, click the drop-down arrow next to the validation marker and click Use Original.

When entering your Package Details, you can optionally add a Confirmation type and Insurance coverage:

Toggle the Confirmation button on, then select a Confirmation Type from the drop-down menu (such as Delivery or Signature).

Toggle the Insurance button on and select Carrier as the provider, then enter the value of your shipment.

See our Insurance guides for more details about shipment insurance coverage: