To create an international shipment in the PayPal Shipping Center, you will follow the same process as creating a domestic shipment and then add a Customs Form to your order.
Here is a brief overview of how to create an international shipment:
Create a Label Without an Order
If you need to create a shipping label independent of an order, you can use the Create New Quick Label button on the Orders page.

A Customs Form declares all items contained within a shipment when that shipment crosses international borders. Customs agencies require Customs Forms to help them regulate the flow of goods in and out of each country.
You must create customs declarations for each unique item in your shipment. Multiple quantities of the same item can be declared on a single customs declaration.
Customs declarations include the following information about each line item of a shipment:
Description

Quantity

Item Value

Total Value (if quantity is more than one)

Harmonization Code

Country of Origin
Make sure the description of your item is as detailed as possible. If the contents are not described in enough detail, the shipment may be returned to the sender by the carrier or the receiving country. The carrier will not issue a refund for the postage cost when a shipment is returned. Your description should include at least what the item is and what it's made of (for example, "cotton t-shirt" or "gold bracelet"). If it's a specialized item, you may also want to include what it is used for (for example, "stainless steel cookware skillet").
What are Harmonization Codes?
Harmonization Codes (also known as HS Codes) are internationally recognized codes to classify an item for tax purposes. The 6-15 digit codes range from general to specific in classification. Ideally, you want to be as specific as possible to avoid delays in the delivery of your shipment. HS Codes are at least 6 characters long and must follow this format: "XXX.XX" If the HS Code is longer, use this format: "XXXX.XX.XXXX"
You MUST use a Harmonization Code when shipping to an address in a European country.
You can look up your item codes on the Harmonized Tariff Schedule page. If you need further assistance classifying your items, contact the US International Trade Commission.
The PayPal Shipping Center will automatically generate the correct type of Customs Forms for your shipments.
If you are shipping internationally with USPS:
The most common types of Customs Forms are the CN22, CN23, and CP72. These are the forms you would typically get from your local post office.
The CN22 form is called PS Form 2976. It is required for all First-Class International shipments valued at less than $400.

The CP72 form is called PS Form 2976-A. It is required for all Priority Mail International shipments or shipments valued at over $400.
USPS automatically includes customs declarations on the label, so Customs Forms do not need to be printed separately.
If you are shipping internationally with UPS:
The PayPal Shipping Center will generate a commercial invoice for your international shipments. You do not need to print the commercial invoice: The PayPal Shipping Center will automatically and electronically submit the customs information to UPS for you.
For International Shipments, UPS will often act as a Customs Broker to make the shipment process more efficient and convenient for the recipient. UPS charges a Brokerage Fee for this service. A number of UPS International Shipping Services include the Brokerage Fee in the cost. If you use a shipping service that does not include the Brokerage Fee, you must pay it separately. Failure to pay the fee will result in an adjustment charge on your invoice.
Learn more about UPS Brokerage Fees in the PayPal Shipping Center.
You must ship your UPS international shipments within 14 days of the label creation date to reduce the chances of your shipment being held at customs.
If you are shipping internationally with DHL Express:
Customs information is sent electronically from the PayPal Shipping Center to DHL Express. You do not need to print your Customs Forms for DHL Express shipments.
Shipping to the UK
Customs forms created in the PayPal Shipping Center do not include the freight (shipping cost) paid by the buyer. This information is required by UK customs.
Contact our support team to enable this feature.
To add Customs Forms to your international shipment:
Click the Select Contents drop-down menu under Customs Form and choose the option that best describes the contents of your shipment (such as Merchandise or Documents).

Choose how you would like the carrier to proceed with the shipment if it is unable to be delivered to the recipient from the If Undeliverable drop-down menu (for example, Return to Sender).

Click Add Declaration.

Complete the customs declaration for the first item of your shipment and click Save.

Notes About Customs Declarations

If the Quantity is more than 1, the Amount will automatically multiply by the Quantity.

The total value must be greater than $0.00 even if the item is free. The carrier will return the package to sender if the total value is listed as $0.00.

Click Add Declaration again to create a new customs declaration if you have multiple items in the shipment.
Once you have declared all the items in the shipment, you can proceed with creating your label.
Need to edit or delete a declaration?
Click Edit next to your customs declaration if you need to make any changes.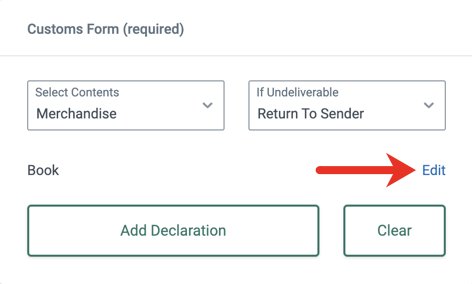 Click the Clear button to completely remove the customs declaration.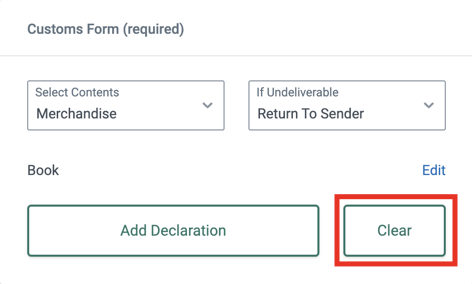 If the total value of your shipment declaration is over $2500, you must ship directly through the carrier to receive an Internal Transaction Number (ITN).

The ITN is the number you receive confirming your Electronic Export Information (EEI) has been accepted in the Automated Export System (AES).

When you create a label for a USPS international service, you will automatically receive a Global Advantage Program label.

The Global Advantage Program (GAP) for PayPal Shipping Center is an international shipping program through USPS that provides an economical way to ship merchandise internationally.

The GAP label will show a destination address of a domestic Postal Processing facility, where USPS will first send the shipment. From there, your shipment will be relabeled and sent on to its international destination with the proper customs forms.

UPS international shipments require the official 2 - 5 character abbreviation in the State Field. For example, use VIC or O6 instead of Victoria or Fukuoka.

UPS Customs requires Full Names for both the ship-from and ship-to addresses. For example, John Doe is the correct format. First names only (ex: John) or abbreviated names (ex: J. Doe) will not be accepted.

If the destination country does not use postal codes, enter 00000 in the postal code field to create the label. This will not affect the delivery of your shipment.

If you are shipping to a country that charges Value-Added Tax (also known as VAT or Goods and Services Tax) on imported goods, the shipment recipient is responsible for paying these charges to the carrier upon receipt of the shipment.

If you are shipping to Mexico, you must include a Contents Description with your Package Details to create a Bill of Lading Complement (Complemento Carta Porte). The Bill of Lading is required by the Mexican government for all shipments to, from, and within Mexico.