To successfully create a label, you must have a valid Ship To and Ship From address on the order. Not to worry! The PayPal Shipping Center automatically verifies addresses for you when you click Calculate Rates or save an edit to a Ship To or Ship From address.
Domestic US addresses are validated against the USPS address validation database, and international addresses are validated against the Melissa Database.
Requirements for Valid Addresses
The Name field must have a first and last name of at least two characters each.

If a Company name is included, this field must have at least two characters.

All address fields cannot exceed 30 characters.

Special characters are not supported.
If the address is verified, you'll move seamlessly to the next step for creating a label. However, there are two instances where you may need to take further action:
You'll be asked to select between a suggested address and the original address if the address as entered is a near match to an address in a database.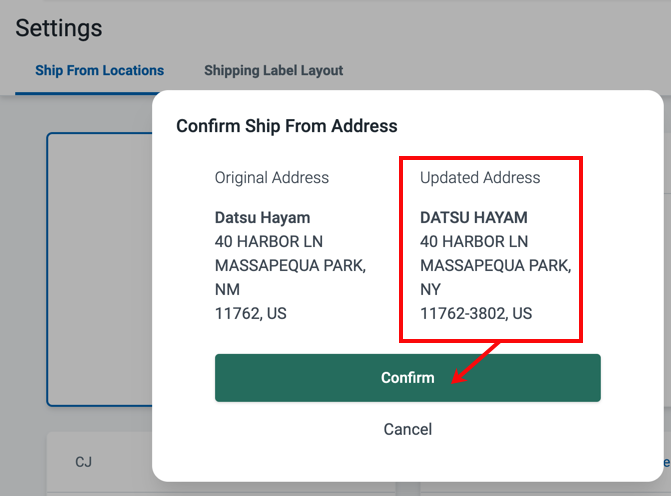 In most cases, you should select the suggested address unless you are certain the original address is required to successfully deliver the package.
If either the Ship From or Ship To address cannot be verified, an error message will appear on the screen letting you know that the address failed validation.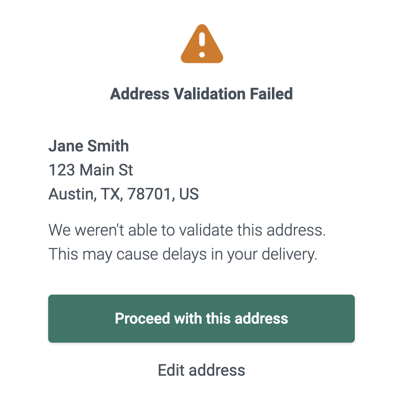 If you have confirmed the address with your customer and would like to use the address as it was originally entered, click the Proceed with this address button.
To update the address, click the Edit address link, enter the correct details, and save your changes. If the changes are verified, you'll then move seamlessly on to the next step in the create label process.