In the PayPal Shipping Center, you can create a shipping label independent of a PayPal order.
Click this link: Log in to the PayPal Shipping Center.

Click the Create New Quick Label button on the Orders page. This will take you to the Buy a Label screen.

Select your Ship From address under Shipping Address.

Click Add Ship To Address. Enter your recipient's address, then click Confirm.

PayPal Shipping Center will automatically verify the Ship To address. Learn more about address verification in PayPal Shipping Center.

Parse a Ship To Address

If you are unsure which fields to enter the Ship To address in, or to save time, you can paste the address in the Add Ship To Address pop-up window.

The PayPal Shipping Center will automatically parse the address into the appropriate address fields.

Click Paste Address, then enter the Ship To address into the "Paste Address" box. Click the Confirm button to save the address.

All fields must be included in the pasted address, including Name, ZIP, and Country.

Fill in the following information for the Package and Weight:

Package Type

Dimensions

Weight

Delivery Confirmation

Click Calculate Rates. You will then see your available service choices under Shipping Services.

Select your desired Shipping Service, then click Purchase Label.

You will then see a confirmation screen with the label details and the options to print or void the label.

The label will not have an order number associated with it and will instead read "Label Created" with the date on which it was manually created.

Click Print Label.

The label will appear in preview mode in your browser.

Select the printer icon to print the label from your browser.

This example prints from Google Chrome. Your browser print screen may appear differently.
The label will be stored in the Labels tab of the Orders page. The order number will begin with "se".

Go back to the Ready to Ship screen to create labels for more orders, or go to the Shipped screen to review the order information, view or reprint your label, or void the label if needed.
When shipping internationally using UPS, three copies of the Commercial Invoice must be printed and included with the shipment. See Creating International Shipments for more detailed information about shipping internationally.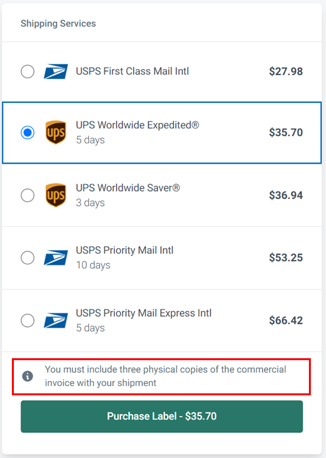 After purchasing the UPS international label: