A packing slip is a document that lists what a package should contain based on the order. It will include customer information, the quantity of items in the order, and other item details. The packing slip can help you make sure that the order has everything in the box. Often times it is included in the box so the customer can make sure that the contents of the box match their order.
You can print packing slips from the PayPal Shipping Center and from your PayPal account.
Available for Imported Orders Only
Packing slips are not available for orders created via the Create New Quick Label button.
You can print a packing slip after you purchase a shipping label on the Order Summary page. Packing slips are printed one at a time.
Click the arrow by the Print Label button and select Print packing slip from the drop-down menu.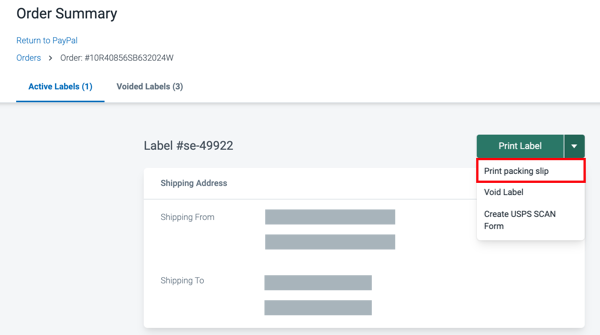 Create and print your shipping label in the PayPal Shipping Center, then return to PayPal.

Click on the All Transactions link, then click the transaction you created a label for.

Click Print Packing Slip on the Transaction Details page.

Click Edit to add your brand details and a default packing slip message.

Review the default packing slip, then click Print.