You must enter both the package weight and package dimensions to view rates in the PayPal Shipping Center. This is especially important for First-Class Mail and Media Mail shipments, which have specific eligibility standards.
If you would like help with determining package sizes, see this guide to common envelope dimensions and the USPS Postal Explorer Parcel Size Description page.
Media Mail Can Only Be Used to Ship Specific Items
Media Mail is designed to ship only books, sound recording, manuscripts, printed music, and other educational materials in packages weighing 70 lb or less.
When creating a Media Mail label in the PayPal Shipping Center, you must confirm that the package contents are compliant with USPS guidelines for Media Mail before completing your purchase.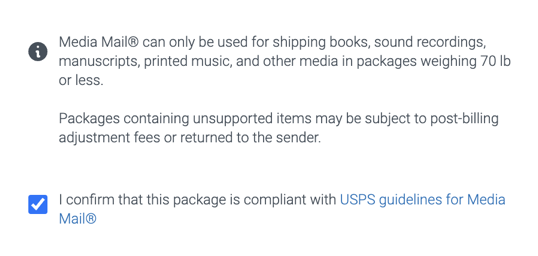 You can select First-Class Mail or Media Mail services when creating a label on the Buy a Label page.
Click Buy Label next to your order, or click the Create New Quick Label button to create a label without an order.

You will be directed to the Buy a Label page.

Select Custom Package from the Package Type drop-down.

Enter the package dimensions and weight (must be less than 1 lb for First-Class Mail).

Click the Calculate Rates button.

Select either USPS First-Class Mail or Media Mail under Shipping Services.
Some First-Class Mail Package Types Cannot be Tracked
USPS First-Class Large Envelopes/Flats are not trackable. Tracking details will not appear for these shipments or on these labels.