DHL Express is a leader in international express delivery. In the PayPal Shipping Center, you can create postage for international shipments with the service DHL Express Worldwide.
To see rates from DHL Express when creating a label, you must first connect DHL Express to your PayPal Shipping Center account:
Before creating a DHL Express Worldwide label, you must declare customs for your shipment. Customs information is sent electronically to DHL Express, so there is no need to print customs forms with your label.
To add customs declarations to your shipment in the PayPal Shipping Center:
Click the Select Contents drop-down menu under Customs Form and choose the option that best describes the contents of your shipment (such as Merchandise or Documents).

Choose how you would like the carrier to proceed with the shipment if it is unable to be delivered to the recipient from the If Undeliverable drop-down menu (for example, Return to Sender).

Click Add Declaration.

Complete the customs declaration for the first item of your shipment and click Save.

Notes About Customs Declarations

If the Quantity is more than 1, the Amount will automatically multiply by the Quantity.

The total value must be greater than $0.00 even if the item is free. The carrier will return the package to sender if the total value is listed as $0.00.

Click Add Declaration again to create a new customs declaration if you have multiple items in the shipment.
Once you have declared customs for your shipment, enter your package information and calculate rates. You will see a rate for DHL Express Worldwide in the list of available Shipping Services.
Select the DHL Express Worldwide service, then click the Purchase Label button.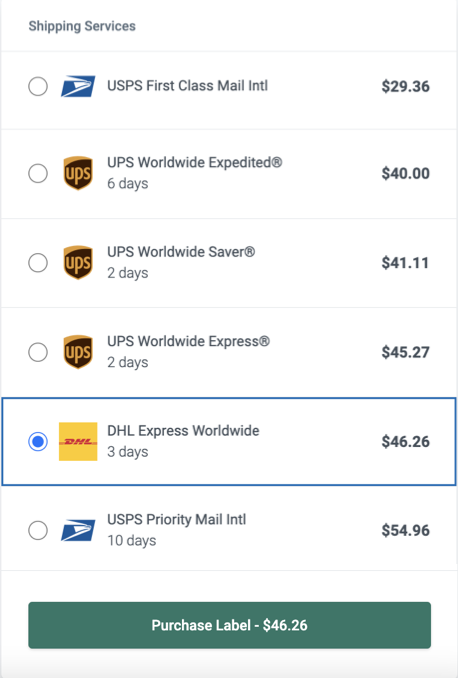 Shipping to the Republic of Ireland: As of July 2, 2023, the inclusion of the correct Eircode (Postal Code) for shipments entering the Republic of Ireland (ROI) is mandatory on all DHL Express shipments. Learn more about and look up Eircodes on the Eircode website.

Maximum weight and dimensions: The maximum actual weight for individual shipments when using DHL Express is 70 kilograms (154.32 pounds).

The maximum package dimensions are a combined length + girth of 130 inches (330.2 cm), where girth is calculated as (2 x width) + (2 x height).

Packages over these maximum values will not be accepted by DHL Express.

DHL Express from the PayPal Shipping Center does not support shipping dangerous or restricted goods.

DHL is likely to return shipments sent to residential addresses in Russia back to the sender. This is because Russian customs authorities examine all dutiable shipments with extreme scrutiny and there is no guarantee the package will be sent to its destination after inspection. You may wish to use a different carrier for shipments bound for a residential address in Russia.

DHL will deliver shipments to commercial addresses in Russia without issue.

Customs forms created in the PayPal Shipping Center do not include the freight (shipping cost) paid by the buyer. This is required by UK customs. Contact our support team to enable this feature.